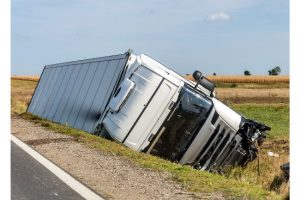 Smaller vehicles like cars and SUVs must often travel next to enormous big rigs and box trucks on Kern County Highways. These large trucks are a risk when drivers become distracted or reckless and start to lose control of their heavy vehicles.
People in cars have very little protection from a semi-truck in a collision. Drivers are also at extra injury risk when they end up underneath the higher-sitting big rigs and tanker trucks. They can become trapped and have to wait extra time for emergency medical care.
Overturned Semi-Truck Lands on Car in Weekend Bakersfield Crash
Two people were injured after a big rig's tractor-trailer landed on a vehicle Sunday afternoon just outside Tehachapi in Kern County. KGET-TV reports the accident occurred just after 2:30 p.m. along Highway 58 near the Mill Street exit on May 8, 2022.
Kern County Fire crews responded to the eastbound lanes to find a semi-truck overturned. They found a vehicle underneath its tractor-trailer. Fire officials say a driver in the car had to be rescued from the wreckage.
The driver and the truck driver were transported to the hospital with injuries. Their current conditions have not been released.
The California Highway Patrol continues to investigate what led up to the accident.
Assistance for Truck Accident Victims in Tehachapi
Surviving victims of truck accidents must often deal with difficult and expensive recoveries. The goal is to get victims back to their normal way of life and the costs of these efforts should fall on at-fault truck drivers and the companies they work for.
It's possible that a trucking company can be held fully liable for a truck accident victim. However, trucking companies will have access to teams of lawyers all paid to help limit the financial support victims and their families receive. It's critical that injured patients have a personal injury attorney of their own to protect their interests when confronting these large companies.
Contact a Kern County Truck Accident Lawyer
If you or a loved one are injured in a truck accident, talk to a Kern County Truck Accident Lawyer about the benefits you have available to you.
Contact Maison Law for a free and confidential case consultation. Martin Gasparian, the founder of Maison Law, believes that families should be informed of everything available to them and remain completely protected after a truck accident.