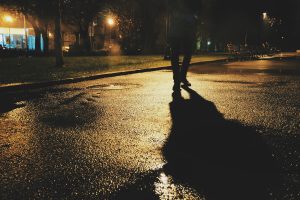 Pedestrians in some sections of Visalia don't always enjoy the protections of safe crosswalks and sidewalks as they travel. At night, those on foot might also be subjected to stretches of road that are poorly lit.
These hazards combined with the lack of care some drivers show as they cross Visalia can lead to frightening collisions. Drivers actually owe all pedestrians a special "duty of care" no matter where they may see them.
The "duty of care" means that because of the unprotected nature of all pedestrians, motorists are required to pay extra attention to the road to spot those on foot. They must also slow down enough to prevent a crash. When a crash is caused, drivers can be held liable for their actions, even if pedestrians weren't in a crosswalk when hit.
Visalia Pedestrian Accident Tragically Claims Life
A devastating collision claimed a pedestrian's life in northeast Visalia Wednesday evening. KFSN-TV reports the accident took place around 6 p.m. on Ben Maddox Way near Buena Vista Avenue on February 2, 2022.
Visalia Police say a man was walking in a dimly-lit area along Ben Maddox when he was struck by a vehicle. The man was rushed to Kaweah Health but later died.
The driver involved in the crash stayed on the scene to cooperate with police investigators. Police officers don't believe drugs or alcohol played a role in the accident.
Support for Families After a Pedestrian Tragedy in Visalia
Too many California families are left to grieve the loss of a loved one after a tragic pedestrian accident. Nothing can replace the love and care a family member provided, but at-fault drivers must be held accountable for their carelessness. Their car insurance providers should also be providing support to grieving families to ensure they don't face a financial crisis after an accident.
In California, close relatives can file something called a wrongful death claim. This civil claim asks for assistance with the costs of a memorial and burial, emergency response fees, and any other medical fees built up before the deceased passed away. A claim also seeks assistance to secure the family in the future when they'll be without the wages the deceased may have provided the household through employment.
Contact a Visalia Wrongful Death Lawyer
A tragedy can leave close relatives of the victim facing unhelpful insurance companies on all sides. It's important to have a legal expert safeguarding a family's interests at such a vulnerable time. Families should never face a financial crisis now or in the years to come over a careless driver's mistake.
Victims or family members can contact an experienced Visalia Wrongful Death Accident Lawyer such as Martin Gasparian for a free consultation and case evaluation. Mr. Gasparian works closely with families to make sure they have everything they need to rebuild their lives after a tragedy.