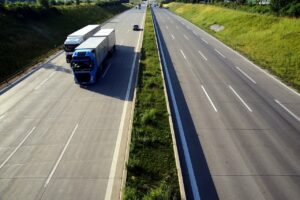 Interstate 5 is one of the busiest interstates in the nation, and travelers don't have to go far to spot all the hazards that arise when traffic gets moving.
A careless driver may feel confident in checking an email or be focused on eating a meal at the wheel and suddenly veer over into another lane. Reckless drivers may let speed build until they can't make a curve and lose control to collide with another traveler.
These mistakes leave drivers and passengers with serious injuries every day in California. In extreme cases, accidents can prove devastating enough to claim a precious life.
Fatal Accident Along I-5 in Kern County
At least one person was tragically killed in a major accident along Interstate 5 in southern Kern County early Friday morning. KERO-TV reports the accident occurred near Lebec, close to the Fort Tejon Road exit on January 14, 2022.
The northbound lanes of the interstate were shut down for around three hours while the California Highway Patrol administered aid and investigated the scene.
They say the collision involved two vehicles. One of the vehicles caught fire after the crash. One person was reported killed in the accident. There's been no word on the possibility of other victims in the incident.
Earning Support for Victims and Their Families After a Kern County Accident
After major accidents, surviving victims will need help in recovery, and families who have lost a loved one may quickly require financial support.
Families mourning their loss can face the costs of a proper burial service. They may also receive enormous emergency response bills at a time when the financial support the deceased had provided the family is suddenly cut off. Close relatives should file a wrongful death claim against an at-fault driver's car insurance provider to make sure the family is protected now and in the years to come.
For surviving victims, a claim for damages can prove the best option when trying to get every hospital bill and physical therapy invoice paid for. A basic insurance settlement may only cover the first few days in a hospital. The settlement could ignore the potential healthcare expenses that lie down the road as well as the lost wages a victim suffers while healing.
Contact a Car Accident Lawyer After a Kern County Accident
If you or a loved one has been the victim of a careless driver, don't trust insurance companies to provide everything you and your family need.
After an accident contact an experienced Central Valley and Southern California car accident lawyer such as Martin Gasparian for a free consultation. This evaluation comes with no obligation to you or your family. Allow Mr. Gasparian to go over your case with you to determine the fastest way to get you and your family the support you need.