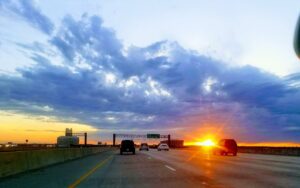 Travel on Highway 99 through Fresno moves quickly at all hours and even safe drivers can end up in frightening collisions when other motorists get careless or reckless.
One thoughtless mistake that drivers make is when they drink alcohol or take drugs and then get behind the wheel. A DUI driver's car becomes a deadly weapon when moving at highway speeds and it's a weapon intoxicated drivers won't be able to control.
Weekend DUI Crash Claims Two Lives in Fresno
Two people tragically lost their lives after a two-car crash involving a DUI suspect in eastern Fresno Saturday morning. YourCentralValley.com reported the accident occurred just before 6 a.m. on Highway 99, near the McKinley Avenue exit on September 3, 2022.
The California Highway Patrol determined that a 2015 Hyundai Genesis struck a 2001 Mitsubishi. The impact sent both vehicles down an embankment. The Mitsubishi then struck a tree and the Hyundai came to rest in a field.
The two people in the Mitsubishi died at the scene. The passenger in that car was identified as a 19-year-old woman from Mendota. The identity of the driver has not been released.
The driver of the Hyundai, a 21-year-old man from Fresno, was rushed to Community Regional Medical Center with injuries. He is also in custody and was arrested on suspicion of felony DUI causing death.
The California Highway Patrol continues to investigate the circumstances surrounding the deadly accident.
Support for Families After a Tragic Fresno DUI Accident
Families who have lost a loved one to a tragic DUI-related accident will wonder how they'll be able to earn justice for the deceased. Close relatives like a spouse or children will also face funeral bills and ambulance fees over a crash their loved one wasn't to blame for.
In California, a relative may file a wrongful death claim on behalf of the rest of the family. This claim seeks help from the at-fault driver's car insurance company with all bills stemming from a fatal accident. It also seeks money to replace the income the deceased can no longer provide to dependent family members.
When the drivers to blame are accused of DUI, they'll be facing criminal charges. However, families don't have to wait on the outcome of a trial to receive support. A family's civil claim can move forward independently of any criminal proceedings and resolve in an insurance settlement.
Contact a California Car Accident Attorney Serving Fresno County
After a careless accident has claimed a loved one's life, make sure your family has what they need to pay their bills now and in the future.
A reckless driver's mistake may have robbed you of the guidance and financial support the deceased can no longer provide, but a Fresno County Car Accident Lawyer can at least help you recover that lost economic contribution. A fair wrongful death claim settlement ensures that your family won't face a financial crisis in the years to come.
To make sure your family is protected from an insurance company's unhelpful practices, contact an experienced attorney like Martin Gasparian, the founder of Maison Law. He offers a free and confidential case consultation to all victimized families. If you decide to hire Mr. Gasparian, you won't need any money. He doesn't get paid unless he wins your family's case.