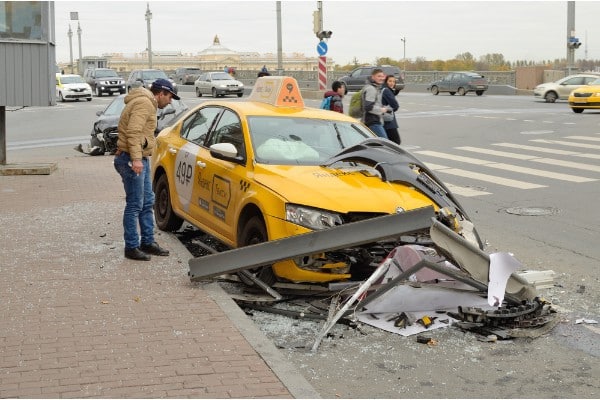 Taxi drivers make their livelihoods behind the wheel. No matter if you are injured while a passenger or if you were hit by a taxi, be aware of this: Because they will want to preserve their livelihood, it is likely you will end up with a big fight on your hands. You can still make a taxi accident claim, but it may involve more steps and take longer than you anticipate.
Passenger Rights
Since you were not one of the drivers in a taxi accident, it's very unlikely you would hold any liability for the accident. If there is a two-car accident, someone was negligent. The difficult part, sometimes, is figuring out whom. Your best bet is to file a third-party insurance claim or begin a personal injury lawsuit against both drivers and let the courts sort out who is liable, especially if it's not obvious who is at fault or if both drivers have some liability.
Insurance companies don't like to pay out, so they may negotiate with each other over who is paying what to whom, and that can take some time. Sometimes a settlement isn't reached until the day of the trial, so be prepared to wait it out. Multiple bodily injury claims may be submitted by different people, and that may exceed the insurance coverage. They'll ask you to settle for less. Be prepared by having an attorney.
Hit by a Taxi
If you are one of the drivers, the only way to win compensation is to prove you were not negligent and assess the damages. How badly was anyone hurt? Is there someone who is obviously liable? It's important to obtain contact information from any witnesses and make a police report. Take photos of the accident scene and of the vehicle from multiple angles.
Don't Get Stuck
Even if you weren't at fault, the insurance web you will have to navigate can get tangled, complicated and sticky. Multiple claims between multiple insurance companies and making sure you use the proper forms is confusing. Not adhering to guidelines or inadvertently missing information can cause further delays. Insurance companies hope someone will give in and settle, in order to pay bills and get the situation behind them. Don't get stuck in that web without an attorney.
Looking for Help
You don't have to look far. Visit us at Maison Law Firm. We are personal injury specialists and have a dedicated team ready to fight for you. Get a free case evaluation and let us do the hard work for you.